Big Local
Big Local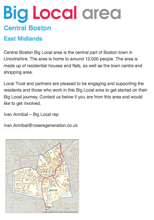 We are working with the Local Trust to help local people make Boston in Lincolnshire a better place to live.
We are doing this by helping them develop and use their skills and confidence to identify what matters most to them, and to take action to change things for the better, now and in the future.
For more details about this project, visit the Big Local Area webpage for Boston.