Social Return on Investment
Social Return on Investment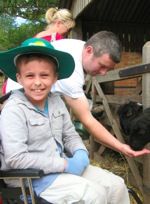 We are working on a pan European project to measure the benefits of voluntary work and how this can provide a pathway to new skills and eventually a paid job.
Unemployment has been increasing all over Europe.
The problems cannot be solved solely by the welfare state, the family or the market.
Volunteerism can connect marginalized groups whose employment needs are not currently met by the established employment systems into paid positions.
Rose Regeneration is supporting the European Commission, Local Authorities and voluntary organisations measure the 'social return' of volunteer projects.