Transforming Local Infrastructure
Transforming Local Infrastructure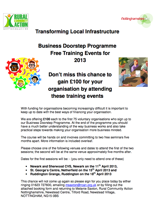 We've been working with Rural Community Action Nottinghamshire and Nottinghamshire First on the Transforming Local Infrastructure project.
With funding for organisations becoming increasingly difficult it is important for organisations to keep up to date with the best ways of financing their operation.
We offered £100 each to the first 75 voluntary organisations who signed up to a Business Doorstep Programme.
At the end of the programme, participants had a much better understanding of the way business works and were able to take practical steps towards making their organisation more business minded.
Feel free to download our Business Doorstep Programme for 2013.