Tag Archives:
farming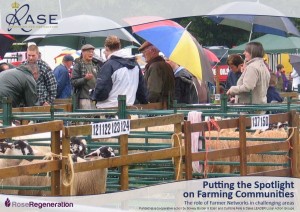 Our report, Putting the Spotlight on Farming Communities, was launched by Tim Farron MP (Chair of the All-Party Parliamentary Group on Hill Farming) at the House of Commons on 21 May 2013.
Tim Farron described the report as "a powerful local response to that old mantra think globally act locally. These networks are not about farming in some abstract or narrow sense. They have wider beneficial impacts for the communities in which they are based and the environment".
The Farmer Networks project was commissioned by the Royal Agricultural Society of England (RASE) with financial support from Solway Border & Eden and Cumbria Fells & Dales Leader Local Action Groups, the Lake District National Park Authority, Natural England and the Prince's Countryside Fund.
For more information about this project, please contact ivan.annibal@roseregeneration.co.uk.
A copy of the report can be downloaded here.